Mike Napthan Archaeology
Archaeological services in Worcester and surrounding counties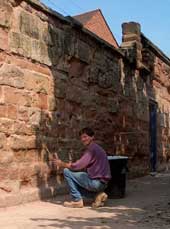 Mike Napthan Archaeology is a Council for British Archaeology affiliated organization, and Mike Napthan is a Member of the Chartered Institute for Archaeologists (formerly Institute of Field Archaeologists). Having worked full time in archaeology since the mid-Eighties for various commercial and local authority archaeological units Mike Napthan began the present company in 1999.
We operate principally in Worcestershire and immediately adjacent counties but will consider interesting projects further afield. In recent years we have increasingly focussed on historic buildings related work but still undertake small below-ground archaeological interventions and monitoring.
Based in the historic centre of Worcester, Mike Napthan Archaeology has undertaken around 150 projects in the City of Worcester and a similar number in Worcestershire and surrounding areas. We have undertaken archaeological projects in Berkshire, Buckinghamshire, Essex, Herefordshire, Hertfordshire, Kent, Northamptonshire, Nottinghamshire, Oxfordshire, Shropshire, Staffordshire, Wiltshire, Worcestershire and Yorkshire. Projects have covered archaeology from all periods - from palaeolithic flint scatters to second world war military hospitals, with particular specialities in the later prehistoric period and detailed analysis of post-medieval buildings and structures. We are able to offer specialist services, such as timber dating and geophysics, through long established commercial relationships with the leading specialists.
Past and present clients include local authorities, Transco, Network Rail, numerous developers, King's School the Royal Grammar School, parish councils, architects and structural engineers.